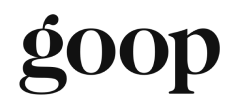 A new little something called Glow Lotion, a vitamin-C-and-turmeric serum, and the coolest, subtlest, easiest-to-put-on faux lashes you'll ever see: Here's what goop's beauty editors—Jean, Megan, Simone, and Brianna—can't get enough of this month.
Putting effort into getting dressed is not unlike meditating: You might not do it every day, but on the days that you do, it can do wonders for morale.
3019 Wilshire Blvd, Suite 206 | Santa Monica | CA | 90403
Goop Inc. 2021 All rights reserved.
Company No.
5406040