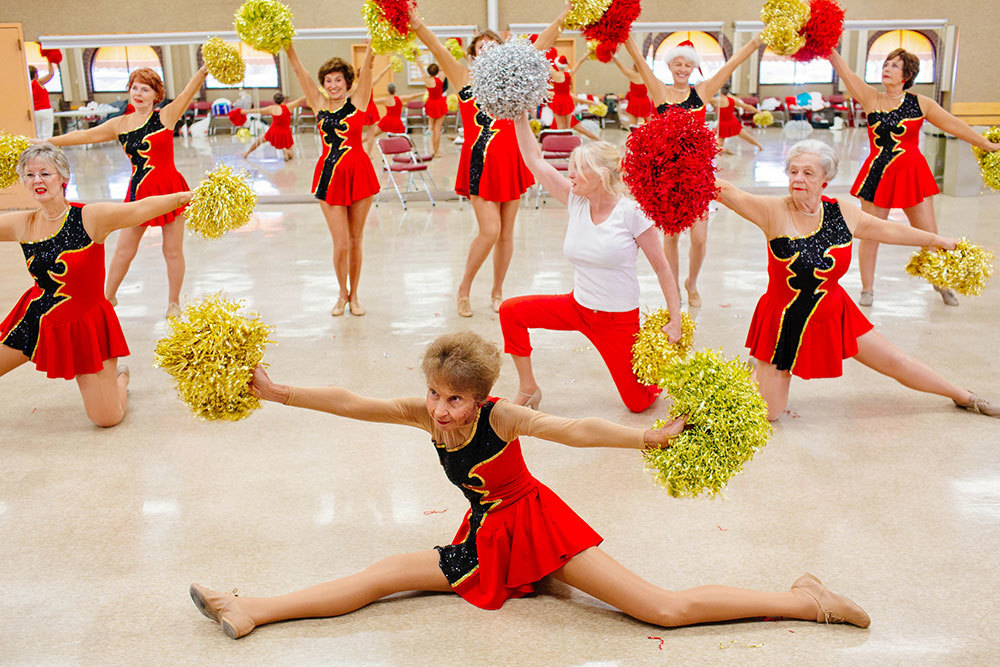 PHOTOGRAPHS BY KENDRICK BRINSON

Kendrick Brinson watercolors now. The photographer and self-described perfectionist probably wouldn't if she hadn't spent part of the last few years among residents of one of America's largest retirement communities.

From the synchronized swim teams, the proms, and the cheerleaders (above), she learned that life isn't always about perfection. It's OK to try something if it's fun, even if you're not great at it, she tells Nat Geo. And do it before your later years, too.

See her images from Sun City below, and read how positive thinking may help us live longer.

Please consider getting our digital report and magazine by subscribing here.
Purple reign: Jean Woods, 77, poses for a portrait at the 2020 Sun City Senior Prom. When she moved to Sun City, she began calling herself Purple because she loves the color. Last year she had her house painted lavender.
I love a parade: Members of the Sun City Players Community Theater (foreground) and the Tip Top Dance Club (rear), before joining a parade in March 2010 to mark the community's 50th anniversary.

Shining star: Swimmers from the Aqua Suns synchronized team form a star shape while rehearsing for a 2013 holiday show. Sun City has around 120 chartered clubs, including groups dedicated to square dancing, ukulele playing, fitness, woodworking, and yoga.
Courting rituals: At a Halloween party in 2017, John and Carla Dykema dress as Bobby Riggs and Billie Jean King to honor the 1973 Battle of the Sexes tennis match. As the drumbeat of mortality grows louder, these activities accentuate the positive. Read more.
What's inside a mermaid's purse? There's a joke there somewhere, but until we find it, a mermaid's purse is the name for a zebra shark's egg. And above, shark caretaker Kyra Wicaksono uses a light to illuminate an embryo inside its egg case. It's part of a massive new species-saving attempt to release hundreds of baby sharks back into the wild. Will these sharks make it? Find out what we know.



All together now: The sun is shining, the days are warming, and just like us, the monarch butterflies—an endangered species—are happy about it. On the warmest of days in Michoacán (pictured), thousands of butterflies use a flight behavior known as "streaming" to fly together and drink water from downhill streams, says photographer and Nat Geo Explorer Jaime Rojo.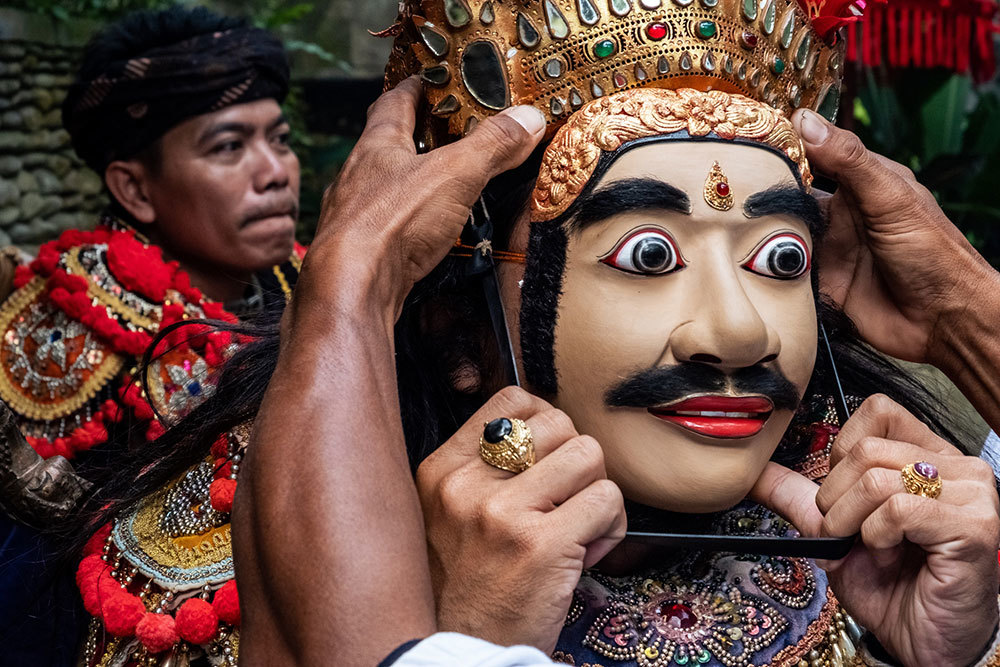 PHOTOGRAPH BY FRANCESCO LASTRUCCI


Become one: Putting on a tapel is more than wearing a mask: "You must 'marry' that mask and make ritual offerings to create unity between yourself and the tapel," Nat Geo reports.

Bali's earliest record of mask dances dates back to A.D. 896. Above, the character of Patih Manis was carved from lightweight pule wood.


Today's soundtrack: Butterflies, Kacey Musgraves

This newsletter has been curated and edited by David Beard, Hannah Farrow, and Jen Tse. Amanda Williams-Bryant, Alisher Egamov, Rita Spinks, and Jeremy Brandt-Vorel also contributed this week. Special thanks this week to Women Photograph and to its first book. Thanks for reading!
| | |
| --- | --- |
| | We'd like to hear from you! Tell us what you think of our emails by sharing your feedback in this short survey. |
Clicking on the Facebook, Twitter, Instagram, and National Geographic Channel links will take you away from our National Geographic Partners site where different terms of use and privacy policy apply.

This email was sent to: tidymails. Please do not reply to this email as this address is not monitored.

This email contains an advertisement from:
National Geographic | 1145 17th Street, N.W. | Washington, D.C. 20036

Stop all types of future commercial email from National Geographic regarding its products, services, or experiences.

© 2023 National Geographic Partners, LLC, All rights reserved.